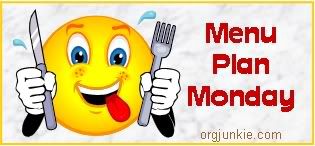 Sorry I'm running a little late! It's been a long weekend out of town, on the road, etc. after the whole family being sick all week. My house looks like a tornado went through... AND I started my new term of college Wednesday.
I didn't get to make a few things I wanted last week we were so blah so I'm making my Spanish Rice Casserole this week and I'll move some others to next week.
I'm going to start just listing my Meals because I never seem to cook them on the planned day LOL!
This week we're having:
Spanish Rice Casserole (MOM's New Recipe!)
Loaded Mashed Tater Dinner (MOM's new Recipe!)
Ham & Cheese stuff & puff (New Recipe!)
Confetti Salad

Fish Fry
Hopefully I can get my house ordered and back on track with the blog this week!