Another Miserly Meal from Jonni McCoy's book!
As usual I traded in the tuna for canned chicken because of a family allergy but many canned meats trade out that way. For a tasty splurge you can try crab, canned salmon, or any other favorite canned flaky meat you prefer. You can also forgo the baking and just let the heat of the pasta melt the cheese for a warm rather than baked dish.
Chicken Florentine
Serves 6 at about 87¢ per serving
Use canned tuna (the original recipe) and save 20¢ per serving!
Ingredients: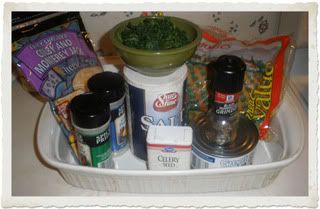 8 oz egg noodles
16 oz frozen spinach, thawed & drained
6 oz canned chicken, drained
2 cups grated cheese (called for cheddar, I used colby jack) plus,
handful of cheese or Parmesan for the top.

1 t onion powder
1 t garlic powder
1/2 t pepper
1/4 t celery seed
1/4 t salt
Directions:
Boil the noodles according to the package and drain.
Add the remainder of the ingredients to the noodles and mix well.
Pour contents into an ungreased 9x13 pan.
Top with a sprinkle of shredded cheese or Parmesan

If you do not want edges to crisp cover with foil.
Bake at 325° for 10-15 minutes until the cheese melts and center is warm.
Enjoy!