Another of Jonni's meals today, Enchilito, and this one really was a budget saver because I had refried beans & homemade cheese sauce in the freezer from last week.
I turned a bottle of ketchup from the pantry to into a bottle of taco sauce a few days ago (because I knew this recipe was coming up and I didn't have any....) I made a mess of the kitchen but it turned out ok, though a little thicker & sweeter than you'd think of a taco sauce... I think next time I'll try tomato sauce or canned tomato juice. I'll update you on that one when I get it right.
About 12¢ ber Enchilito or 48¢ per serving using my frozen things!! Just about $1 per serving using all store bought... still a HUGE bargain!
We went the microwave route and it was great.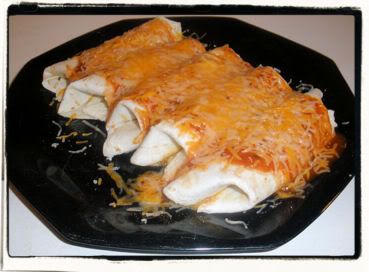 Enchilito
1 lbs ground meat ( I used taco flavored turkey burger)
1/4 c flour
1 t chili powder
1/3 c diced onion
4 cloves of pressed garlic
1/2 t salt
1/2 c water
16 oz refried beans
16 eight inch flour tortillas
1 1/2 c taco sauce
1 1/2 c grated cheese
Directions:
Brown ground meat and drain.
Add next five ingredients, and mix well.
Add water and simmer 8-10 minutes until creamy.
Warm beans.
Put 3 T beans and 3 T beef on a tortilla and roll up.
Arrange folded side down cover with sauce and cheese Microwave or bake until cheese is melted.