I am soooo full and it was soooo messy but it was sooooo good! LOL!
Bobby Flay's Cheyenne Burgers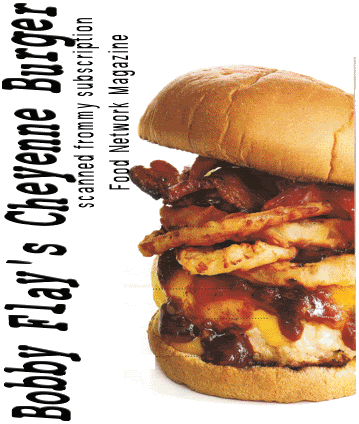 1 lb 85% lean turkey burger
($1.89)
1 Onion -slice THIN
(25¢)
Borden Applewood Bacon Cheddar Slices ~ my splurge
($3.89/10 slices used 2 =78¢)
Lettuce
(maybe 25¢ worth)
Tomatoe
(A BIG ONE $1)
Everything else was was in the pantry!
($4.17 TOTAL MEAL)
and yes the burger itself was a full meal!
Use Bobby Flay's Cheyenne Burger Recipe @ Food Network
I followed his recipe tonight. I even made the BBQ sauce recipe.
NOTE: You may need to by chipotle in adobo for the
BBQ sauce if it isn't something you keep around.



EXCEPT




I used lettuce and tomato, and he didn't.
I used a bacon cheddar cheese by Kraft(my splurge of the menu)

I used light brown sugar, which may be why my BBQ sauce is lighter than his. I was going to use a bottle sauce, but I actually had everything in his sauce recipe other than the dark brown sugar and molasses so I used another 1/2T each of honey and light and called it good.. it was AWESOME!

BUT VERY SPICY!

I used regular milk for the onion ring batter, not buttermilk. Didn't have any. Just put a 1 tablespoon vinegar and whisk well if you like that tangy taste.




Those of you who don't know Bobby Flay's cooking, he likes it hot! This was great!